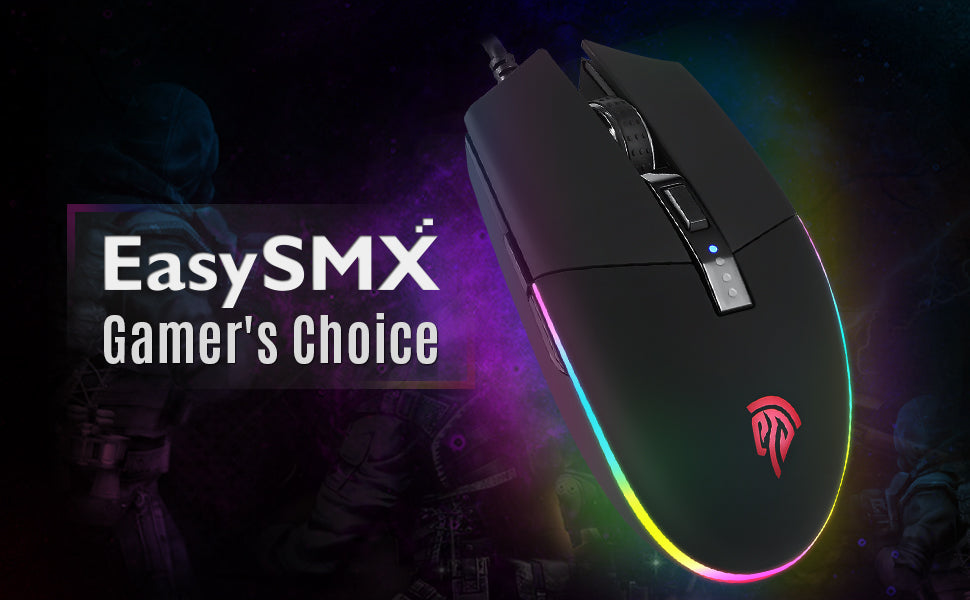 The gaming mouse features an impressive DPI setting up to 7000 DPI with 5 DPI settings 800, 1500, 3000, 4500, and 7000.
The DPI shift button behind the scroll wheel lets you alter DPI sensitivity on the fly, handy if you want to use different settings between the desktop and a game.
There is also a DPI light indicating the sensitivity level you are at.

The PC gaming mouse boasts five programmable buttons (Right/scroll wheel/forward/backward/DPI shift button) which can be key bound to what every use you want in games.
Every gamer can tweak it to an extent that it corresponds to their individual playstyle, such as button assignments, DPI setting and RGB illumination.

The computer mouse comes with six lighting effects so you can not only have this mouse cycle through multiple colors, but have it display a rainbow of hues.
It's a custom-color backlighting where you can choose from an incredible 16.8 million colors.

This laptop mouse is designed with fans of LAN parties in mind.
3 profiles can be stored up to on the mouse and make an unlimited number of profiles on your PC if you log in your account in the EasySMX software.
Simply store the settings in the mouse and it can work with multiple PCs without re-installing software or log in.
WIDE COMPATIBILITY & HASSLE-FREE WARRANTY – This LED PC mouse is compatible with Windows 10, Windows 8, Windows 7, Windows XP, Vista, Linux, Mac OS etc.
Note that NO programming function for Mac computers)
Press the left button and forward button to adjust the lighting mode. Press the right button and forward button to adjust the speed of lighting. Press the right button and backward button to adjust the color of lighting.
Specifications
• Backlight Color: RGB
• Connection: USB
• Sensor Type: Infrared
• DPI: 800, 1500, 3000, 4500, 7000
• IPS: 80IPS
• Acceleration: 20g
• Buttons: 6
• Key Life: 20 Million Clicks
• Weight: 18g
• FPS: 5300
• Polling Rate: 500HZ
• Product Dimension: 118.82mm (L) * 64.61mm (W) * 38.83mm (H)
• Cable Length: 1.8m, 1.7m Visible
• Operating System: Windows 2000/XP/ME/Vista/Win7 /Win8/ Win8.1/Win10, Mac OS

IMPORTANT!
• EasySMX Gaming Software is not supported on Mac computer.

Package List
• 1 x EasySMX V50 Gaming Mouse
• 1 x User Manual