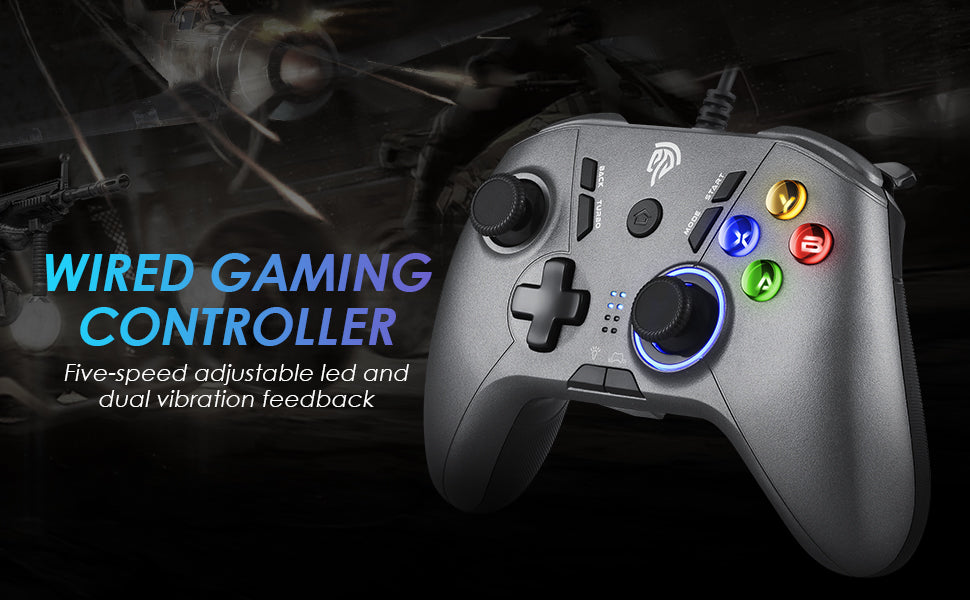 This wired game controller is compatible with Windows (Xinput & Dinput),
Vista, TV box, PS3 and Android 4.0 & up (OTG adapter required (not included) ).
Not compatible with Xbox 360/ Xbox One/ Mac/ IOS/ PlayStation 4/ Amazon fire TV/ Amazon fire stick

The USB cable extends 2 meters long (6.5 feet) and you can play sitting a bit far away from the console
Built-in asymmetric double-vibration somatosensory motor, vibration intensity can be adjusted in five steps,
real experience of collision, vibration, shooting and other scenes in the game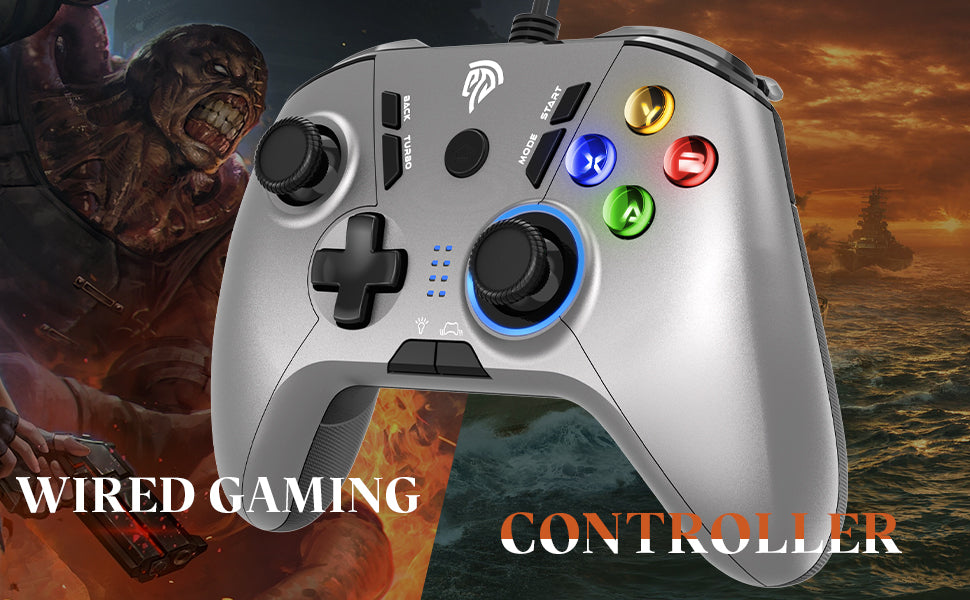 There are four programmable buttons on the bottom of the handle: M1 M2 M3 M4.
Customize turbo plus any button to release players' fingers and destroy your enemies with mere one press.
ABXY button and right joystick of this gaming controller gamepad with cool LED light, 5 brightness adjustable

Dual Vibration feedback gives you a exciting gaming experience, precise thumb sticks,
two pressure-point triggers and an 8-way directional pad help you stay in control
Asymmetric button layout and anti-slip design provides a more comfortable gaming experience

Note:
SL-9111 Gaming Controller supports Windows XP/10/7/8/8.1 system, Switch and Android phones, tablets,
Android TVs, TV boxes that support OTG function and version 5.0 or above.

How to set the customized buttons
1.Press and hold the button that needs to be customized, such as M1, and then press the BACK button.
At this point, the ring LED light changes to a mixed color and enters the custom state.
2.Press the button that needs to be programmed to M1, such as A button. It can also be the combination button A B button.
3.Press the M1 button again, the ring LED will turn blue, setting successfully.
Other M2 M3 M4 button settings are the same as above.